PLEASE CALL US AT: 716-646-0464 Ext. 111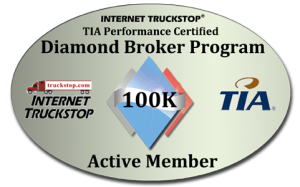 Pro Transportation is a proud member of  the Internet TruckStop and  TIA's Performance Diamond Broker Program. The stringent eligibility of this program includes an A+ credit rating and working with integrity by following TIA's code of ethics. As an active member of this highly esteemed program with a 4 Diamond Rating it shows our carriers, our shippers, and the logistic industry that we are different.  A 4 Diamond Rating quickly delivers assurance to you regarding credit performance history for over 25 years!
New Carrier Packet Download
Thank you for your interest in becoming an approved carrier for Pro Transportation Services. We offer excellent opportunities for you to prosper and grow your business through competitive rates, dedicated lanes, carrier relations, prompt settlements and professional communication with our 24-7 on call dispatch.
To quickly move the approval process along please download and return this PDF or CALL US 716-646-0464:
Our mission at Pro is to prove we are the best choice for transportation and logistic services. In pursuit of our mission we are focused on growth, fairness and excellence. This focus embodies our employees, our customers, our industry as well as our community.
We adhere to a philosophy of happiness, integrity and the feeling of "a job well done." With all people we come in contact with, our company puts the needs of others first. In this positive space everyone performs at their very best. Through laughter, professionalism and hard work we strive for our carriers, shippers and Pro Transportation to all grow together successfully in business and in life.
Our promise is to always think creatively and be responsive to all people we deal with. We are your transportation advocates, and pledge to focus on your needs by utilizing the latest technology, and not forgetting the power of personal communication skills. We will bring forth positive change in our industry.